Sony VAIO Tap 20 Mobile Desktop hands-on
3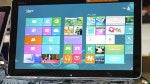 Hearing about a
20-inch tablet
will undoubtedly get some people to take plenty of notice, especially when it's an uncommon size – more like ridiculous in a way. Still, there's always that one person who wouldn't mind taking ownership of something so mind-boggling large with them on the go. Well people, as we're going to see more and more, PC manufacturers are turning the all-in-one PC form factor and transforming them into these portable tablet-like hybrids. That leads us to one peculiar item we checked out at PAX East 2013 in Boston, the
Sony VAIO Tap 20 Mobile Desktop
.
Without question an
all-in-one desktop PC
at its heart, the Sony VAIO Tap 20 Mobile Desktop can also pass for an
extra-large sized tablet
. Sporting an insane
20-inch 1600 x 900 IPS-LCD based display
, touchscreen goodness and all, it's capable of being transported anywhere you go thanks to its reasonable
11.46lbs weight
, which is absolutely tipping the scale for any tablet, but very slim for an all-in-one desktop PC. So yeah, you know about that fancy schmancy Microsoft Surface Pro, right? Well this is every bit as capable of delivering the same experience, but it offers a higher level of versatility – minus the compactness of a traditional tablet.
Running
Windows 8
, its powerful enough to deliver a no frills experience with its tight performance – thanks in part to its variety of available processors (models range from 3rd generation Intel Core i5 to i7, with 4GB to 8GB of RAM). At 20-inches alone, it makes for a wonderful video watching experience, as it also provides the usefulness of a
kickstand
in the rear. As for the battery life with this still portable all-in-one-desktop PC, it's rated to push out roughly
2 hours 45 minutes of juice
out of a single charge, which is abysmal for a tablet, but for something of this caliber, we're actually comforted by the thought. And of course, since PAX East 2013 is all about gaming, it doesn't stutter in the wake of some intense action with different fighting games.
Literally, you'll be able to bring this behemoth anywhere you please, and if pricing is a concern to you, then you might be glad to know that there are a variety of configurations that place the Sony VAIO Tap 20 Mobile Desktop
under the $1,000 mark
. Even better, it's available for purchase already online and through various retailers.