Sony Ericsson announces W880 and W610 Walkman phones
1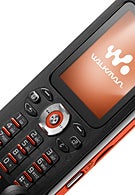 We've already knew it was going to happen and it really did - Sony
Ericsson
today announced its new line that consists of the phones themanufacturer is going to launch during the year. All the new models arein
candybar
design, but among them are budget phones, some targeted to multimedia, and two music-oriented Walkman phones.
Sony
Ericsson
W880
was rumored to be the "
Ai
" phone - the slimmest device of the manufacturer. Only 0.35 inches (9mm) which is slimmer than Motorola's
SLVR
/
RAZR
and Q and a bit "thicker" than
Samsung's
ultra-thin
candybars
. Don't judge for the book by its cover it true for the W880. Dispite its size it is also feature packed and has
QVGA
display (only 1.8" though), M2 memory slot (it comes with 1GB memorycard in box) and full Walkman capabilities. Unfortunately it stilldoesn't have standard 3.5mm stereo jack but uses adapter (also includedin the box) to connect standard headphones - something silly for a"Walkman". The W880 is
tri
-band +
UMTS
phone for Europe.
W610
on the other hand is quad-band
GSM
capable of global roaming. It is fatter, at 0.55inches (14mm) and being part of the mid-tier - not so feature packed. It comes in the box with with half-gigabyte M2 card for memory. As a standardWalkman phone A2DP stereo Bluetooth audio is supported and unlike theW880, it has FM radio. An additional bonus is the auto-focus of the2-megapixel camera (not present for the W880) which partiallycompensates for the lack of 3G.
The W880, together with W888(the Asian version that drops the 3G) are expected to launch in firstquarter of the year, while we will have to wait until Q2 for the W610.All of the phones have scored FCC approval.