Sony Ericsson Xperia X7 & X7 mini are on their way flaunting Windows Phone 7?
13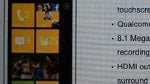 Although we've been seeing Sony Ericsson concoct a handful of Android powered smartphones for the better portion of the last year, there have been whispers that they are
committed in once again developing a phone based on Microsoft's mobile platform
. No, we're not talking about Windows Mobile here, but instead, it's naturally going to be the newer flavor with Windows Phone 7. And just like that, two potentially upcoming Sony Ericsson smartphones flaunting Windows Phone 7 have been leaked.
Jumping in between model numbers, like the Xperia X1, X2, X10, and X8, we find the Xperia X7 moniker to fall in place for their potential devices. Both the Xperia X7 and X7 mini have been leaked alongside with some speculated specs that show off their allegiance to Microsoft's polished mobile platform.
First up is the Xperia X7 which is going to come packing an impressive 1.2GHz dual-core Qualcomm Snapdragon MSM8260 chipset, 4.3" display, 8.1-megapixel camera with 720p video recording, and an HDMI out port. Needless to say that it's a monster in its own regard, but its design is pretty much more of the same with its rounded corners.
On the other hand, the Xperia X7 mini will feature a 3.5" display, 1GHz Snapdragon QSD8250 processor, 10.1-megapixel camera which will pack 3x optical zoom and xenon flash. Essentially, the Xperia X7 mini is more adept for the casual photo enthusiasts out there.
Based on the information provided by the leak, we can expect to see these two handsets to come to market some time during Q1 of 2011 – which should be plenty of time for them to get it fine tuned to its fullest. Now that Sony Ericsson seems to be in the game with Windows Phone 7, are you excited for either of them?
Thanks Imad!
source:
YouTube
Recommended Stories