Sony Ericsson Xperia X10 for AT&T finds itself fittingly priced at $29.99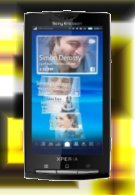 Needless to say that AT&T's version of the Sony Ericsson Xperia X10 might've been late into the US market by a few months, but it makes for an even more difficult sell when it's priced at $149.99 on-contract. Although its pricing could've been regarded as appropriate if the high-end Android smartphone were released with an updated version of Android, as opposed to its current state of Android 1.6, it looks as though a couple of online retailers are here for the rescue.
Again we see Wirefly and
Amazon
transforming AT&T's over-bloated price of $149.99 for the Xperia X10 to an eye catching figure of $29.99 – with a new contract obviously. When you think about it, the handset would easily fall in line to pricing traditionally seen with feature phones and some entry-level devices. So if you're looking to sign a new 2-year agreement with AT&T, you can consider adding this $29.99 Sony Ericsson Xperia X10 to your list.
Sony Ericsson Xperia X10a Specifications
|
Review
source:
Wirefly
&
Amazon