Sony Ericsson Xperia X1 coming this month!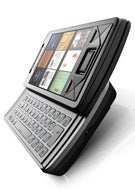 After rumors that the top-shelf Sony Ericsson phone, the Xperia X1, will be delayed until late December or even next year, today SE officially announced that it will be launched on September 30. After twenty days, it will be officially offered in three countries across Europe: UK, Germany and Sweden. Additional 32 countries across the world are listed as getting it in Q4 2008, but the North America availability is said to be announced "in the coming months". While we hope that the U.S. version will arrive before the end of the year, it seems more likely that it will be launched just as 2009 starts. Even though the European variant will be offered in the U.S. by online retailers, it won't really be worth it, supporting the 1900 MHz 3G band (in addition to the European ones) but not the 850 MHz.
Sony Ericsson now lists two variants of the Xperia X1; both are quad-band GSM phones with tri-band 3G support. The European version will have 3G at 900/1900/2100 MHz and the other version is AT&T-friendly, with 850/1900/2100 MHz on board. The manufacturer no longer lists a version with UMTS 1700 MHz, which was shown at the time of the announcement, and would have been usable with T-Mobile USA's 3G.
Sony Ericsson Xperia X1 Specifications
source:
Sony Ericsson