Sony Ericsson Xperia PLAY immersive game experiments: use it to control a real-world soccer game
5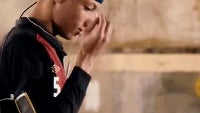 You might have heard about augmented reality, but this here simulation with the
Sony Ericsson Xperia PLAY
goes beyond that. This is really more of a
controlled reality experiment
featuring indie rock band Kasabian frontman Tom Meighan and Aston Villa soccer player Darren Bent, who got to experience an almost fully immersive soccer game. The experiment featured two 5-player soccer teams consisting of real humans equipped with special communication kits, so they could be easily controlled.
It seems weird at the beginning, but obviously Meighan and Bent got used to the controls and managed to score a couple of goals by controlling the players. How more fun could it get?
If for some reason this freaks you out (just picture a futuristic world of Xperia PLAY-controlled humans, if it doesn't), you're not alone. Now, imagine a world of Minecraft that immersive and you'd instantly feel like an Egyptian pharaoh thrilled with what he can build. But at the end of the day, it's one amusing concept, so just check out the video below and let us know how do you feel about the Xperia PLAY a couple of months after it's become available - has it lived up to your expectations?