Sony Ericsson W8: welcome the first Walkman phone on Android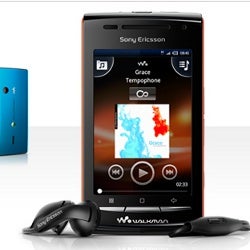 We've heard rumors about it, but itwasn't quite sure up until now – the Sony Ericsson W8 Walkman phoneon Android is here. Sony Ericsson has obviously decided to try andcontinue its Walkman lineup years after the Walkman series walkedtheir walk. The W8 was announced on the company's Indonesian websiteleaving some doubt over its global availability, but even if itreaches the North American market don't expect any technologicalrevolutions. So far, the company has plans to launch the W8 in the second quarter of the year across a number of Asian markets including China, Hong Kong, Indonesia and India.
The handset carries the design accentsof an XPERIA X8 save for the addition of fresh colors (the phone comes in Azure Blue, Metallic Red and Iconic Orange flavors), but under the hood there is amodest 600MHz processor which powers the almost ancient Android 2.1garnished with Timescape. The W8 has a 3-inch capacitive touchscreenwith resolution of 320 x 480. A 3.2-megapixel camerawith no flash will serve your photography needs, but theW8 aims to bring the focus on music so we expect to see above averagespeakers in the handset.

source: Sony Ericsson (translated)via GSM Arena