Sony Ericsson Nozomi to get announced at CES 2012?
15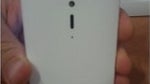 The
Sony Ericsson Nozomi
is one handset we're eagerly looking forward to - it's expected to become the next high-end offering by Sony Ericsson (soon to become only Sony). But our tipster Ricciolo claims to have some inside information saying that the picture we saw leak out recently is not of the Nozomi, but of another, more affordable device.
The actual Nozomi on the other hand is expected get
officially unveiled on January 10th, 2012
. That's the exact date when CES 2012 kicks off, so we wouldn't be surprised if our tipster got this one right, but we'd still take all of this with a shade of healthy doubt. Rumors mention the Nozomi to feature a 4.3-inch display with a 720x1280 pixel resolution and a dual-core 1.5GHz processor.
In addition, the scoop says SE's lineup will have the same last year's models - the SE Xperia arc, neo, pro running on the same platform but with a redefined price. Now, we're yet to see what the future brings and a price cut on previous models could be expected as well, but that tells little about the new models. What do you want to see from Sony Ericsson that would make you consider purchasing their new phones?
Recommended Stories