Sony Core and Smartband hands-on
5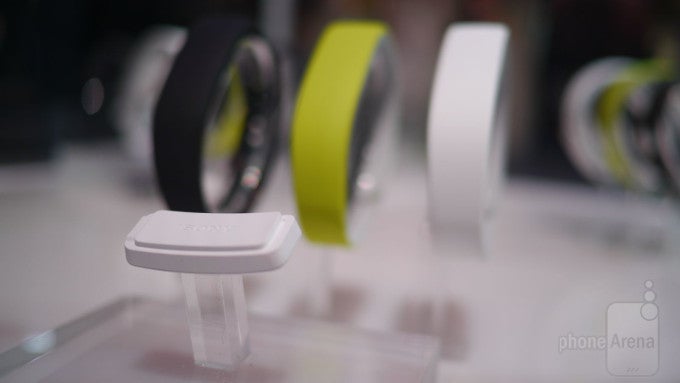 The introduction of the Sony Xperia Z1S for the US market, along with the long-awaited unveiling of the Z1 Compact, sure captured most of our attention, but those were hardly all that the Japanese company had in store for CES2014. Much alike to... just about everyone else, Sony also introduced new wearable tech, and though the manufacturer made it clear that we should consider these as teasers and wait for MWC in February, we did nevertheless catch a glimpse of Sony's plans and what they entail. Joining Sony's existing SmartWatch 2 are the Core and the SmartBand, and we managed to get some hands-on time with both.
Design
Simplicity is golden, or so the Sony design team, responsible for the Core and the SmartBand, must have thought, and they're not entirely wrong. The Core is a small, USB stick-sized piece of tech, that appears to be the brains behind Sony's entire wearables strategy. It's a simple, slightly curved, rectangular slab and it actually is the heart of the SmartBand, which, on its own, is really just a rubber wrist bracelet with the Sony logo that comes in black, white and yellow.
Functionality
Design be damned, we want to know how useful these things are. Unfortunately, in a typical Sony fashion, details were kind of scarce, and we were instead treated to a story of what Sony is
hoping
to accomplish with the Core and the SmartBand, and really, anything that follows. As we outlined already, the Core will take a central part in Sony's new wearables strategy, as it will supposedly fit with other products beyond the SmartBand, too. It's an NFC-equipped piece of wizardry, that Sony promises will keep track of a very complete spectrum of activities, with the aim of keeping track of not just your fitness regime, but your entire life. To that end, and aside from calories burnt, distance traveled, and steps walked, the Core will actually be able to tell you much more about your life, thanks to its tether to your smartphone. We're told to expect it to curate and aggregate information, such as the modes of transport you used, your social interactions, the photos you snapped, and so on and so forth. If anything, it really reminds us of LG's Life Square app, which does much of the same things, but on your phone. But the really interesting part about the Core, is that it's not embedded, and can be re-purposed, which gives consumers some greater degree of choice compared to what's on the market right now. At least in theory.
Looking at the SmartBand, we've gotta agree with the Sony rep that demo'd it for us -- it's a bit of a misnomer. The SmartBand is simply a rubberized bracelet that has little use sans the Core. The latter can be inserted in a perfectly-shaped hole inside the SmartBand, which provides you with a convenient way to keep it close to you.
Expectations
The lack of details and concrete information aside, Sony did seem very excited, and more importantly, serious, about its upcoming wearable products. By now, it's clear that 2014 will be all about wearables, and the Japanese manufacturer is obviously shooting for a leadership role. To that end, the Core appears like the real product, whereas the SmartBand is just one of several possible applications, which is an exciting prospect. Don't get us wrong, there's nothing fundamentally new here, as we've witnessed during CES2014 -- manufacturers have obviously gotten the point across: fitness-only wearables are simply too niche and not functional enough to appeal to the everyday consumer. Sony is not the first to that realization. Be that as it may, we'll be definitely keeping a dedicated eye on the company in 2014, as it sure seems to have all hands on the wearables deck.