Sonim XP7 Extreme, the most rugged LTE Android smartphone in the world, can be yours for $579
18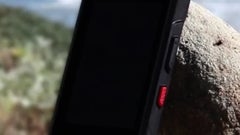 Rugged handset maker Sonim announced the launch of an Indiegogo crowdfunding campaign to sell a new smartphone: the Sonim XP7 Extreme. Presented as "the world's most rugged LTE Android smartphone", the XP7 Extreme is targeted at active-sports enthusiasts. It's not made to replace the "pretty" smartphone that you already have, instead being pitched as the perfect companion for when you're going skiing, mountain climbing, dirt biking, fishing, hiking, kayaking - and the list can go on and on with similar activities (as you'll see in the video embedded below).
The XP7 Extreme is a bulky smartphone that won't win any beauty contests, but that's not its purpose anyway. The device resists to shock, impact, and drops on concrete (from 6.5 feet / 2 meters), and can be submerged in up to 2 meters of water (including salt water). It's also dirt-, mud-, sand- and dust-proof, while also being resistant to oils and chemicals. On top of that, Sonim offers a 3-year warranty for the handset.
Running Android 4.4 KitKat, the Sonim XP7 Extreme sports a 4-inch Gorilla Glass display with 480 x 800 pixels. Other features: LTE and 3G connectivity, Wi-Fi 802.11 a/b/g/n/r, Bluetooth 4.0, 1 MP front-facing camera, 8 MP rear camera, loud speaker, 16 GB of internal memory, and 1 GB of RAM. The handset is powered by a quad-core 1.2 GHz Snapdragon 400 processor, and includes a huge 4800 mAh battery that can provide a talk time of up to 40 hours, or a stand-by time of up to 1000 hours (that's 41 days).
You can get yourself an XP7 Extreme smartphone if you contribute $579 to Sonim's Indiegogo campaign at the first source link below. The company estimates that it will ship the handset in March 2015, alongside an Ultra Mobile SIM and $49 of prepaid credit (US only), a microUSB adapter, and a "Sonim Explorer virtual goodie bag". Interested?