Son says U.S. carriers need to increase LTE speeds and lower the price
43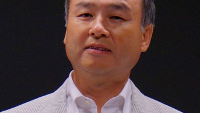 On Tuesday, SoftBank Chairman Masayoshi Son said that he would eventually deliver 200Mbps speeds to Sprint customers in the U.S. As we mentioned on Monday,
Son told Charlie Rose during a televised interview that he would start a "price war" in the states
after combining SoftBank owned Sprint with its rumored target of T-Mobile. Son also hosted a luncheon in Washington D.C. on Tuesday at the U.S. Chamber of Commerce.
During his speech on Tuesday, the executive said that the U.S. is falling behind when it comes to the mobile internet. Citing a recent report from OpenSignal, LTE speeds in the U.S. are some of the slowest around the globe. The report from OpenSignal showed that the average LTE download speed in the U.S. is 6.5 Mbps, which is slower than all countries except for the Philippines' 5.3 Mbps tally. To show how far behind the U.S. is, the fastest LTE speeds belong to Australia with a download average of 24.5Mbps.
OpenSignal stated that U.S. LTE speeds are dragged down by exceptionally slower carriers like MetroPCS, which was acquired by T-Mobile last year. In addition, congestion on U.S. LTE pipelines has also slowed down speeds. Son pointed out that Americans are paying more to use less LTE-flavored data. He noted that while the average Japanese consumer spends $30 a month and uses 1.5GB of data, the average American spends $52 a month to use a smaller amount of data, 1GB. What the OpenSignal report fails to take into account, according to an OECD study, is that smartphones and handsets are cheaper in the states than in Japan in 10 out of 11 service plans it studied. Son states that fixing the problem in the U.S. just requires the carriers to offer faster data speeds at a lower price.
"That's the only two things we have to solve. Let's increase the speed. Reduce the price--by competition. Not pseudo competition, real competition. Let's change it. It's not complicated. It's a simple thing."
-Masayoshi Son, Chairman, SoftBank
While Sprint's LTE service is considered the slowest in the states according to a recent RootMetrics report, Son promised that things would change once the carrier expanded its Sprint Spark service. The tri-band LTE service provides speeds as fast as 150 to 180 Mbps, and even that figure pales next to the 200Mbps figure that Son mentioned on Tuesday.as his goal for wireless speed into the home. That compares to the top speed of about 36 Mbps that cable firms peak at.
The SoftBank executive considers it an obligation as one of the players in the states "
to provide a solution, not criticize the situation
."
source:
FierceWireless
via
OpenSignal