Someone's selfie caused $200,000 worth of damage
17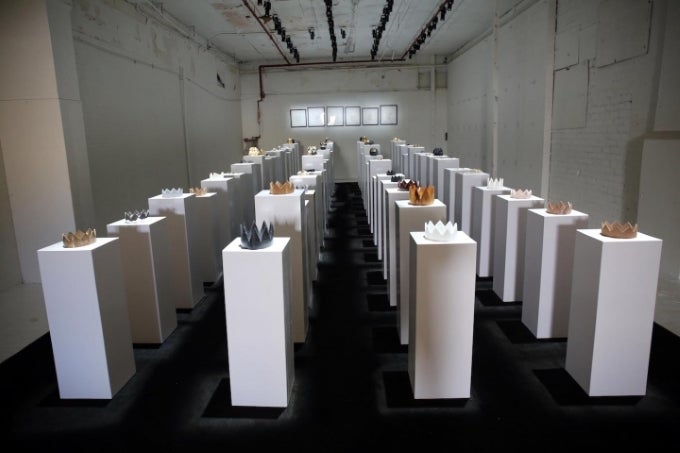 Hypercaine art exhibit. Image courtesy of Hyperallergic.com
The debate whether our selfie obsession has gone too far has been raging for years. In most cases, selfies don't do any actual harm, but are just a little off putting and maybe slightly annoying to people around us. However, there are plenty of examples of selfies that were directly connected to the physical or monetary damage of someone taking the picture or people around them.
The latest example comes from Los Angeles, California, and more specifically – from the 14th Factory exhibition space. It shows exactly what happens when we're not mindful of where exactly we're taking a selfie.
As you can see from the video below, a woman decided to lean on a pedestal which held one of the art pieces from the Hypercaine art exhibit, which features 60 crown-shaped sculptures from various materials. However, the pedestal appears to be very light and not secured to the floor in any way, as once the woman leaned on it, it came toppling down and starting a chain reaction which knocked over nearly a quarter of the entire exhibit.
The incident happened two weeks ago, and Gloria Yu, one of the artists involved in the exhibition, had the following to say:
"Three sculptures were permanently damaged and others to varying degrees. The approximate cost of damage is $200,000."
However, since the video was released on YouTube, a lot of viewers have expressed their doubt about its legitimacy. Its description claims that the uploader is a friend of the main artist of the installation – Simon Birch – which made some people believe that the accident might be a promotional stunt, and it was staged in order to make the art installation go viral.
If it is a method of promoting the exhibit, the video is certainly doing its job pretty well. At the time of writing of this piece, it has accumulated almost 180,000 views in the 24 hours it has been live.
via
TheGuardian