Some Sony Xperia Z Ultra users are having a problem getting the phone to wake up
52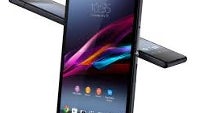 The
Sony Xperia Z Ultra
right now offers the largest screen on a smartphone at 6.4 inches. But the size of the glass doesn't seem to matter for a number of owners of the device whose unit is suffering some problems with the display. The most talked about problem deals with the Xperia Z Ultra's inability to awaken by pressing the power button. The backlight turns on, but the huge screen remains blank or shows some green lines. The OS is running while this is happening, and a few repeat presses of the power button finally brings the screen to life. After a few times of going through this cycle, owners of the device have apparently had enough.
One owner of the Sony Xperia Z Ultra says that he has to press his power button anywhere
from 5 to 150 times
before the screen comes back on. He also says that his display has a yellowish tinge to it. A number of YouTube videos have popped up showing the problem. So far, no word from Sony although some say that the firmware update to build version 14.1.B.0.475 solves the problem. Others say that the update doesn't help. Hopefully, we will soon see Sony spring to life with an effective update that will work for everyone.
In the meantime, you can check out some of the YouTube videos that have been posted by disappointed Sony Xperia Z Ultra owners. And if you happen to own the device and are experiencing a problem, drop us a comment in the box below.
source:
XperiaBlog
via
XDA