Some Samsung Galaxy S II phones will come with NVIDIA's Tegra 2 instead of Exynos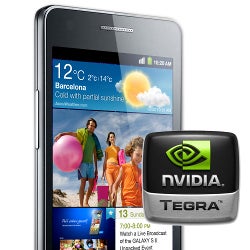 The Samsung Galaxy S II is not simplythe successor to the popular original Galaxy S, but it's also thefirst phone to showcase the capabilities of Samsung's ownExynos dual-core chip, a direct competitor to NVIDIA's Tegra2. But now it seems that - weirdly enough - some Galaxy S II handsetswill ship with this very Tegra 2 chip instead of the Exynos, as perNVIDIA itself, which has confirmed this to tech blog ITProPortal. Check out our in-depth look at dual-core processors to learn what this means for you.

Other handsets however will still shipwith Exynos, previously known as Orion, on board. Reporting about thechip on the Galaxy S II was mixed as Samsung itself seemed tomistakenly quote the handset as carrying the Tegra 2 chip. There areno details about whether this will affect all locations, whichwill get the phone, but some speculations hint to an NVIDIA-poweredGalaxy S II for the UK and the US. We'll abstain from any finalconclusions until we hear a confirmation by Samsung, but the mostlikely reason for this is the expected high demand and insufficientproduction capacity. It will be weeks before we find out, but in themeantime, check out our hands-onof the Samsung Galaxy S II from MWC!
source: ITProPortal