Some HTC handsets go 16 bit after Windows Phone NoDo update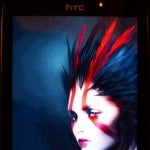 Updating your Windows Phone 7 handsetis supposed to improve the functionality of your phone, but it seemsthat recent updates have done everything but that. Some Samsunghandsets were brickedafter a minor update and now WP7 NoDo update has brought color depthproblems to HTC phones. Luckily, this time the issue doesn't renderyour phone completely useless, but decreases image quality to 16bits.
16-bit images translate into noticeablecolor banding, often occurring throughout the whole operating system. Put simply, with 16 bits you have a total of 65536 colors versus some 16 million on a 24-bit system. The difference is most noticeable in gradual color variation as you can see on theimage below where the background shadow looks posterized. Alex D' onMicrosoft Answers details the issue:
"I've got NoDo on HTC Trophy.Everything is okay at the moment, except a color depth. It wasdefinitely decreased from 24bit to 16bit. I see now bandings onwallpapers and pictures. It was not like that before - the gradientswere smooth and nice. Why it was changed and how I can 24 bit back?"
An unofficial fix has already beenposted on the XDA Developers forum. You have to change the followingkeys in the registry, followed by a reboot, but try it at your own risk as Microsoft hasn't come up with anofficial statement just yet:
HKLM\Drivers\Display\Primary\PrimBPPdword 32
HKLM\Drivers\Display\Primary\bpp dword32
HKLM\Drivers\Display\Primary\PanelBPPdword 32
Have you experienced the same problem?Let us know in the comments below!
source: WMPoweruserand Microsoft Answers