Some Galaxy Nexus users having minor multitouch issues
46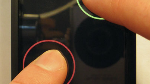 We don't want to cause any bad flashbacks for Nexus One users who jumped to the Galaxy Nexus, but there have been some minor multitouch issues reported from Galaxy Nexus users, though nothing along the lines that the Nexus One faced.
The reports from RootzWiki forums have said that there can be inconsistent behavior when using the phone in landscape mode. Some users found that while playing games in landscape mode, the bottom right corner of the screen would eventually become unresponsive. Of course, there is a super easy fix, which is simply to turn off the screen and turn it back on. Still, it's an issue that could definitely cause some annoyance. Although, we'd definitely say that this is not nearly as annoying as how long it takes the phone to reorient from portrait to landscape.
No word on any possible fix from Google on this one, but as you can see below, the issue has been reproduced on both GSM and LTE models of the Galaxy Nexus.