Software update for freezing issues post ICS installation is in the pipelines for the Asus Transformer Prime
7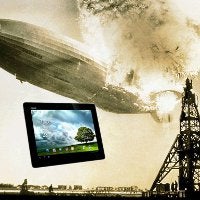 Oh the humanity! The
Asus Transformer Prime
might have some hefty titles under its belt, like the fact it's the sole
Ice Cream Sandwich
packing tablet on the market right now, but it's constantly being bombarded by problems that seemingly shake things up for the venerable tablet. Before, we heard about issues relating to
Wi-Fi
and then
GPS
, but now it looks as though another problem has been raised after the post
ICS software update for the tablet
.
Specifically, some owners have reported experiencing
random freezing issues
after installing the ICS software update. Needless to say, it's yet another thing added to the long listing of problems seen since its debut, but nonetheless, Asus is adamant on squashing this one as soon as possible. In fact, Asus technical marketing overseer
Gary Keys
has firmly responded by anticipating a
fix
becoming available sometime in
early February
.
Of course, it's fine and dandy that a fix is in the pipelines for it, but it really hampers the tablet's reputation in some way. Some people can actually be scared away from making a purchase, especially when issues have been very prominent for this quad-core packing tablet. Then again, others have mentioned positive outcomes with all of the released software update – so there are some good endings with these updates.
If you've
read our review
, you'll notice that we didn't experience any sort of freezing issue after installing the update for ICS, and more importantly, its performance is top-notch in almost every category. Sure, we found its GPS signal strength to be weak overall, but at least we were able to still use GPS-enabled apps with very little issues.
source:
xda-developers
via
Electronista