So, Snap Spectacles — are you getting a pair?
9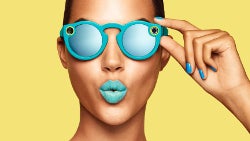 About 5 months ago, Snap — Snapchat's creator company — announced its first ever physical product to the world —
the Spectacles
. A pair of connectable, camera-equipped glasses, which can record 10-second videos, helping you create Snapchat stories without having to shuffle for your phone and miss the moment.
In order to create more buzz around the recording shades, Snap introduced a curious distribution method — the Spectacles were only available via special Snapchat vending machines, which would only appear in certain locations for 24 hours. However, the company is
now launching online sales
as well and you can go ahead and order your Spectacles for the modest price of $129.99.
So, would you like a pair of those? With Google Glass being scrapped for the time being, Spectacles may be the only thing we get even remotely close to smart glasses. They also sound like they would be very useful when that spur-of-the-moment thing happens and you don't have your phone ready to capture it.
On the other hand, their styling might not be for everybody, and we can see how not everyone would want to throw $139 at a pair of plastic sunglasses with a camera strapped to it.