Microsoft extends #SmokedByWindowsPhone challenge
14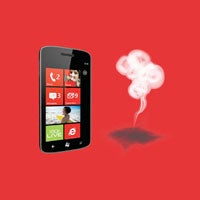 Even though Microsoft had a bit of a
kerfuffle with one #SmokedByWindowsPhone participant
last week, overall the campaign must be doing well because the Redmond-based giant has decided to extend it.
Originally the contest, which has been occurring at all Microsoft Store locations, was scheduled to end on March 29th. It is now being extended until April 5th, with a few changes to the prizes.
Moving forward, only the first 100 people who get smoked by a Windows Phone will have the option to take a free phone. After that, the next 500 will receive a $25 gift card. Gift card recipients will not have to trade in their phone to collect a prize. The $1,000 special edition The Hunger Games HP Folio 13 is still up for grabs.
If you have a Microsoft Store in your area and think you have what it takes to smoke a Windows Phone or just want to get a free one for yourself, you still have a few days to get out there. Have any of our readers taken the Smoked by Windows Phone challenge? We would love to hear about your experience in the comments.
source:
TheVerge