Qualcomm Toq smartwatch with Mirasol display to offer "days of battery life", due in Q4
10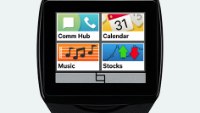 While we're not completely sold that this first wave of smartwatches will really be worth our time, it's interesting to see how things will evolve from here. And, a very interesting competitor is one that we didn't expect: Qualcomm, which has announced its Toq (pronounced "talk") smartwatch. This is a Qualcomm product all the way through, and the most important part of that is the display: a Mirasol display.
Mirasol
is a technology that we've talked about before, and one that we have continued to hope we would see more in new technologies, but the best we've seen so far is a couple of e-readers that never made it out of
South Korea
. Mirasol is a transflective display technology, which is something of a hybrid between eInk and LCD, which means you get the power savings of an eInk display, but the color reproduction and responsiveness of an LCD. The Mirasol display on the Toq means that it can be an always-on display, like the Pebble, but still offer solid battery life and full color performance.
According to Qualcomm, the Toq will offer "days of battery life before the device needs to be recharged", and Qualcomm even notes that the device doesn't even have an on/off button, because the power usage is so low. And, when you do need to charge it, the Toq uses Qualcomm's own WiPower LE wireless charging technology. This is a nice way to show off Qualcomm tech, but not so great if you already have a Qi wireless charging pad.
As you would expect from a smartwatch, the Toq will offer options to manage smartphone calls, text messages, meeting reminders and various notifications. There will also be a Qualcomm app which developers can hook into to have more notifications show on the device. There will also be a "Premium Audio Edition" of Toq which will come with a wireless Bluetooth headset that also charges wirelessly. No wires at all (aside from the one connecting the left and right ear buds).
Qualcomm says that the Toq will be a "limited edition" device, so it's unclear how wide of a release it will have. The Toq is planned for a Q4 release, and will be compatible with Andorid 4.0.3 and higher. No word on price.