Smartphone thefts in San Francisco mapped out
12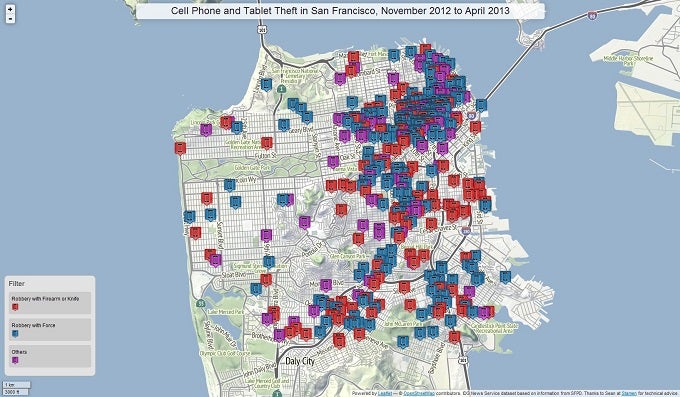 Smartphone thefts have been making the news lately. These devices are expensive and because they are portable and not attached to us like a ring or watch, make great targets for thieves. San Francisco, being such a tech savvy city is not immune to this attraction.
IDG News has gathered data from the San Francisco Police Department and mapped out all the cell phone and tablet thefts in San Francisco from November 2012 to April 2013.
The interactive map provides a summary of the details for each incident, what type of weapon was used to assist the suspect (S) against the victim (V), and if anyone was injured. Thefts in major cities across the country seem to have been increasing.
You can check out the interactive map here
. The reports for each theft are nearly as diverse as the locations where they occurred. While no one likes the prospect of having to replace their expensive hardware, it may not be worth putting your safety or life on the line to protect it. Remember to be aware of your surroundings and exercise caution when in areas that might pose an opportunity to those that bid you ill will.
via:
CITEWorld