Smart speaker calls cops to break up a domestic disturbance
29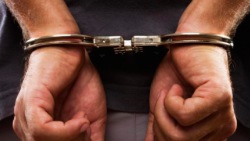 We know how useful smart speakers can be. Pairing a speaker with a virtual assistant allows users to activate smart appliances (like lights, thermostats, entertainment systems etc.), stream music playlists, obtain information like the weather, sports scores and the news. Depending on the model, you can send texts and even make and take phone calls. And as a mother and daughter in New Mexico discovered the other day, certain smart speakers will call the cops in the middle of a domestic dispute.
A week ago, Eduardo Barros was house-sitting in Tijeras with his girlfriend and her daughter. A dispute between the adults eventually became physical and Barros, who was carrying a firearm, threatened to kill his girlfriend. He asked her, "Did you call the sheriff?" The home that Barros, his girlfriend and daughter were in happened to have a smart speaker system hooked into a surround sound set up. So when Barros asked his girlfriend if she called the sheriff, it was mistakenly converted into a command to call law enforcement.
When the cops arrived, they removed the girlfriend and her daughter from the scene. The girlfriend had sustained some injuries, but did not require a trip to the hospital. Barros held the cops off for a few hours before the SWAT team and crisis negotiators were called in. After finally giving up, the boyfriend was charged with possession of a firearm or destructive device by a felon, aggravated battery against a household member, aggravated assault against a household member and false imprisonment. Authorities said that the smart speaker might have saved a life by calling 9-1-1 when it did.
"The unexpected use of this new technology to contact emergency services has possibly helped save a life. This amazing technology definitely helped save a mother and her child from a very violent situation."-Manuel Gonzales III, Sheriff, Bernalillo County
Earlier reports said that the smart speaker involved in this story was a Google Home unit, but later versions removed any reference to a specific model.
source:
ABCNews