Sliding Messaging didn't get the memo: adds Google Voice support until May
1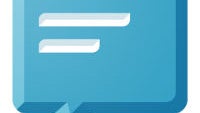 Recently, Google said that 3rd party apps that offer Google Voice support are using an unofficial API and will be
shut down
by May of 2014. Well, it seems that the folks at Klinker Apps either never got that message, or are deciding to ignore it because they have added full Google Voice support to the Sliding Messaging app. So, at least for now, you can get your regular SMS and MMS along with Google Voice in the same app.
As you might expect from the name of the app, Sliding Messaging features a few swipe gestures that will "slide" in and out of different functionality. You can slide between your different conversations, swipe in from the left to get your inbox view, or swipe in from the right to compose a new message. You can easily choose between using standard SMS or Google Voice when sending a message.
The app is also quite customizable, especially with a Theme Engine add-on or Emoji keyboard add-on that will cost you 99 cents each. The app itself costs $1.99. Also note that the current version of the app is 7.9, so the video below is a bit out of date, but it gives a good look at the UI of the app.
We've reached out to Klinker Apps, and Jacob Klinker has said that while Google has not contacted him yet, the team "will continue to support it until May, but after that [he] can't say exactly what will happen. Most likely it will no longer work though."
So, unless Google changes plans or releases an official API, don't expect this to be a long term solution.