Sketching on the iPad made easy with Paper by FiftyThree
0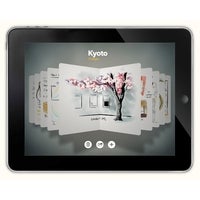 Microsoft once worked on what it codenamed the Courier project: a booklet PC with dual touchscreens and a stylus. Eventually, the concept got scrapped in 2010, or about two years after it was first unveiled. Now, however, comes a software product that was partially developed by the same folks who worked on Courier, and interestingly, the iPad is what it is meant to run on.
Introducing Paper by FiftyThree,
a sketchbook app meant to take advantage of that gorgeous Retina Display on the new iPad. And it looks like a lot of cool ideas can be easily visualized with it even though the app looks rather minimalistic. Paper comes with five different brushes: Draw, Sketch, Outline, Write, and Color. However, only one of them is available at no charge, while the rest will cost you $1.99 apiece. Nevertheless, the app itself is free to download, meaning that you can check it out on your iPad right now. Oh, and by the way, even though your fingers will do just fine, it is recommended that you get a stylus if you want your sketches to really look pristine.
Now just follow the link below if you want to download Paper on your iPad, and if you are still hesitant, check out that cool promotional video that we have embedded.