Six Flags and Samsung to open nine virtual reality roller coasters in North America
33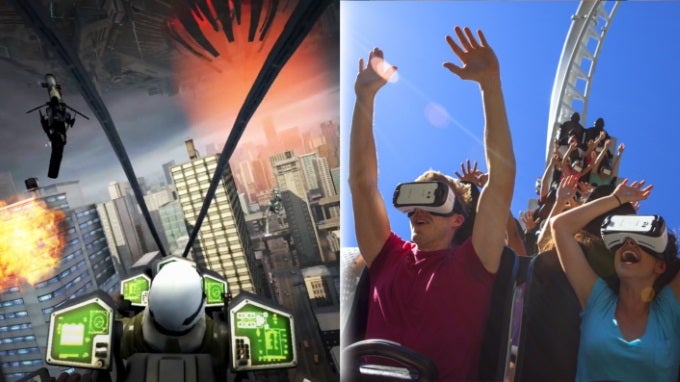 Virtual reality is a game-changing experience... for roller coaster riders! Check this out – Six Flags Entertainment, the world's largest regional theme park company, is teaming up with Samsung Electronics America as its "Official Technology Partner" for bringing "ground-breaking experiences" to nine Six Flags parks across North America. Six Flags is using the Samsung Gear VR to power "fully immersive, virtual riding experiences".
Here's how it all works out – nine coasters will be equipped to let riders wear Samsung Gear VR headsets "playing" a VR video synced with all the steep drops, inverted loops, and powerful twists and turns. The headset's gyros, accelerometers, and proximity sensors augment the roller coaster ride with a 360-degree virtual reality experience.
The Gear VR augments the coaster ride with a 360-degree virtual reality experience.
Six Flags and Samsung will launch the new VR Roller Coasters beginning this month and into the summer. There will be six New Revolution VR Coasters, in which
"riders are transported to a futuristic battle to save planet Earth from an alien invasion."
The other three are Superman VR Coasters, made to
"immerse riders in the 360-degree comic book world of Metropolis."
We won't spoil the details here, but the experience is all about Superman battling supervillain Lex Luthor and his army of Lex Bots
"through hairpin twists and turns, loops, dips, and dives."
Sounds fascinating!
More information about the VR experiences and the coaster locations is available in the source link below. You can also check out the following video for a taste of what's to come!
source:
Samsung Tomorrow