Siri might eventually feature Google Assistant-like functionality in iMessage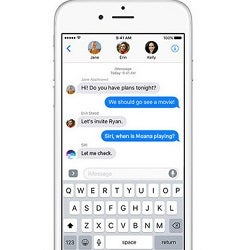 With Google's new
Pixel
phones, one of the standout features for a lot of people is the tight integration it has with the
Google Assistant
. The Google Assistant is essentially a souped-up version of what was started with Google Now, and it's resulted in one of the best virtual assistants that's currently available. However, while the Google Assistant is most notable on the Pixel phones, it first stole the limelight when it debuted on Google's iMessage competitor - Allo. The Google Assistant is able to pop into your messages and provide contextual information based off of what's taking place in your conversation, and when it works, it's insanely convenient and useful.
AppleInsider
recently did a bit of digging with patents that Apple has filed, and one that was filed back in May 2015 looks like we could eventually see Siri get some Google Assistant-like features in iMessage. In the patent, it shows people in an iMessage conversation using Siri to provide directions to a certain area, send money to recipients in the conversation, and schedule events. As shown in the patent, typing "Siri, when are we all free to grab lunch?" will then prompt Siri to showcase various dates and times that will work for everyone to meet up and grab a bite to eat. Additionally, typing "Siri, can you send Brett 10 bucks?" will then provide you with numerous apps you can use to send that $10 to Brett.
Although patent filings don't necessarily mean that we're guaranteed to see the features that they outline, this seems like a very practical and plausible addition that would make using iMessage even more useful than it already is. Plus, considering that Google is already offering something similar with Google Assistant and Allo, we'd expect to see this patent come to fruition in that not too-distant future.