Sir David Attenborough comes in VR to tell you about rocks and minerals
5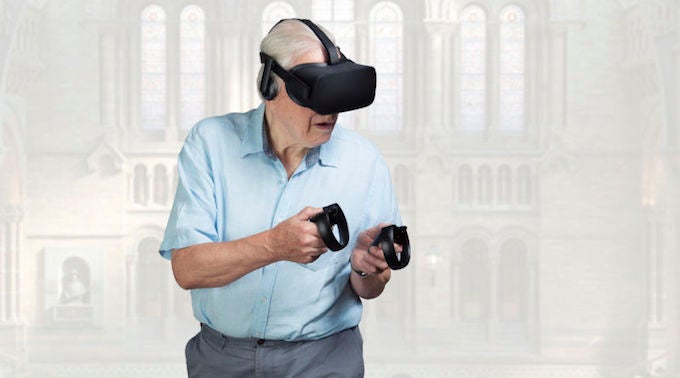 When you think of a person with deep, soothing voice that resonates with everything inside of you, you either think of Morgan Freeman or your father. Unless you grew up in Britain. In the UK, 'God's voice' person would be Sir David Attenborough, hands down. This man has talked about more rocks than there are rocks on this planet, on more media platforms than most contemporary pop stars, with voice - certainly more beautiful and dreamy than most of said stars'. Iconic British naturalist, Sir Attenborough is now also going to star as a hologram in a VR experience, called 'Hold the World'. His voice and persona are going to guide visitors at London's Natural History Museum, and educate them about different exhibits and their nature.
The project is a collaboration of UK broadcaster Sky and the Museum, and aims to allow users to explore history and unique natural findings from the comfort of their homes. Imagine a 'curious' Saturday afternoon, with your VR set, chilling on the couch and listening to Sir Attenborough's absolutely lovely voice. That's how natural history comes in the 21st century.
Speaking of VR sets, though, rumour is that Hold the World will only be available on Google Cardboard, Samsung Gear VR, Oculus rift, and iOS. The iOS suggestion is really doubtful, considering that
Apple is still to enter the VR arena
. No comments have been made about HTC Vive or console VR platforms.
Nonetheless, Sir Attenborough has already starred in VR productions, making appearances in Google's VR Expeditions and PlayStation VR's First Life. At 90 years of age, the British broadcaster is fantastically active in his field, putting people's education and entertainment as his leading cause.
I have enjoyed helping people to discover more about the natural world, and Hold The World offers people a unique opportunity: to examine rare objects, some millions of years old, up close. It represents an extraordinary new step in how people can explore and experience nature, all from the comfort of their own homes and I am delighted to be able to help users uncover some of the treasures the Natural History Museum has to offer in a thrilling new way. - Sir David Attenborough commented
No mention has been made of a possible release date, but we know that it will be at some point "later this year".