Silicon Valley billionaire says "the age of Apple is over"
99+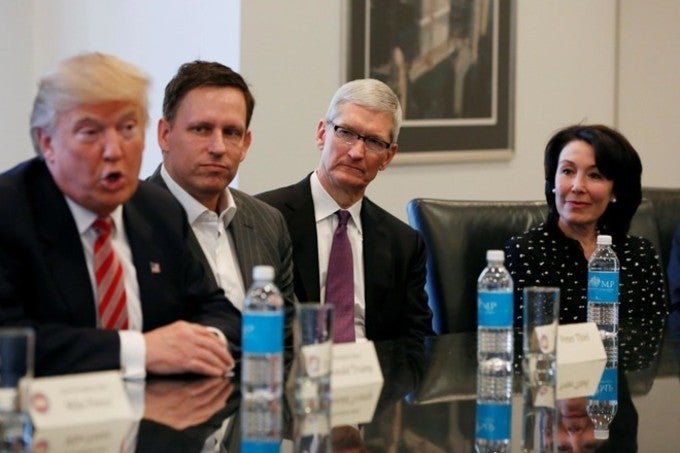 Peter Thiel sitting between the President-elect and Apple CEO Tim Cook at Donald Trump's tech summit
Sillicon Valley billionaire Peter Thiel appears to be very skeptical about Apple's future. The venture capitalist and Facebook board member, who is also known as the "Don of the PayPal Mafia", was subjected to an interesting Q&A session in "Confirm or Deny" – a popular segment of the
New York Times
.
When asked to confirm or deny whether the age of Apple is over, Thiel replied:
Confirm. We know what a smartphone looks like and does. It's not the fault of Tim Cook, but it's not an area where there will be any more innovation.
Thiel's words suggest that Cupertino is over reliant on the iPhone, which is correct, given that over 60% of the company's revenue over the last two years came from different versions of its famous handset. His claim is also further supported by the fact that Apple's 2016
annual profits fell
for the first time in 14 years as sales of the iPhone declined.
Despite this gloomy forecast, Tim Cook & Co. still have an enormous cash reserve, which undoubtedly will be put to good use. Apple is also planning to do something special with the 2017 iteration of its handset, as the company marks 10 years since Steve Jobs introduced the original iPhone. At least one version of the device is
rumored
to sport an edge-to-edge OLED display, an innovative wireless charging technology and a host of other interesting features.
Apple, however, wasn't the only corporation mentioned in Thiel's interview. Host Maureen Dowd also questioned the billionaire about Google and Facebook.
Thiel confirmed that Google was too dominant in the Obama administration, saying that "Google had more power under Obama than Exxon had under Bush 43".
The venture capitalist shared some interesting facts about Facebook CEO Mark Zuckerberg, while also denying that Facebook is a media company (according to the company's official policy). When asked whether the media should trust Facebook, Thiel replied:
Confirm. Although, trusting in what way? There are a comical number of misguided conspiracy theories about Facebook.
via
AppleInsider