Should I choose the HTC EVO 4G or the Google Nexus One?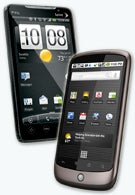 With both the
HTC EVO 4G
and the
Google Nexus One
coming out real soon with Sprint, the inevitable question for every cyber geek will be: "Which one should I choose?" In this article we'll take a quick look at the advantages and disadvantages of each of these high-end offerings, so that everyone can make an informed choice, which they will never regret.
So, what makes these two devices pretty hot right now are the pretty beefed-up specs they sport and the
Android OS
. Both take advantage of the latest
2.1
version, and we can be pretty sure that both will quickly receive an update to the next version, when there is such. The HTC EVO 4G's biggest advantage on software level is undoubtedly the ubiquitous Sense user interface, which some claim to be "the best thing that has happened to Android".
Where we find some real differentiation is the
hardware
department. Both phones are very powerful and fast with 1GHz processors and 512MB RAM. Both also have very large screen, but the EVO 4G gains the upper hand by packing a gigantic 4.3-inch panel, versus the Nexus One's 3.7 inches. One thing that is worth noting is that the Nexus One is actually using AMOLED technology, which allows for brighter image with more saturated colors. Not that the EVO 4G's TFT tech is bad, but AMOLED has quickly convinced us that is has a brighter future.
However, the HTC EVO 4G reveals its superiority by unleashing an 8MP camera with HD video recording (the N1 has 5MP with DVD-quality video recording) and, of course, 4G WiMAX connectivity, which will be very helpful if you surf the web through your carrier's network, or use data-intensive apps.
So, in the end we can simply say that the Google Nexus One is the better looking, more compact (that is, when compared to the EVO 4G) smartphone that still has some quite impressive specs. If size doesn't bother you though, and you want absolutely the best in terms of specs, then the ultimate solution for you would be the HTC EVO 4G.
Check here
for a full comparison between the specs of the HTC EVO 4G and Google Nexus One.