'Sheeple' added to the dictionary, cites Apple fans as example
99+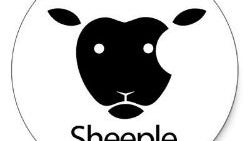 Language always evolves and dictionaries try to put a delay on making official certain terms that may have gained popularity over the years, just to make sure it's something that is likely to last. Apparently, Merriam-Webster has decided that trolling Apple fans is something that will last the test of time, and so it has added the word "sheeple" to its list of official words.
The official definition of "sheeple" is "people who are docile, compliant, or easily influenced : people likened to sheep," however it's the rest of the listing that is fascinating. The second example of using the word "sheeple" references an Apple user who will "happily shell out $99" for the
official battery case
released for the iPhone despite said case being "ungainly" and "lumpy." We're pretty sure Apple fans may not take kindly to that reference, but considering there are better and cheaper
iPhone battery cases
available, some credit must be given to Merriam-Webster for accuracy on that.
Even more interesting is the listing claims the first known use of the word was 1945. It doesn't mention the context of that first usage, but considering how long it took for "sheeple" to gain enough popularity and usage to make it into the dictionary, it might seem reasonable to say Apple's influence was the difference maker.