Shazam hits 1.5 on Android, gets nice new features
1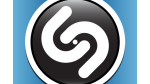 If you are a music nerd, you probably have been using and loving Shazam for a while now. It's a simple concept that is invaluable once you have it in your pocket. Just hold your phone up to some music, and Shazam will identify the song for you. Of course, the functionality of the app has grown since its inception, and now it's getting even more useful.
Version 1.5 of Shazam for Android has made updates for the specific purpose of letting you find previously tagged music more easily. The UI has been revamped, bringing bigger album art photos, and location tagging. But, the biggest addition is with 30-second previews, so you can go through your previously tagged music and hear a little clip of the song, rather than having to try to remember the song you want by name or artist. Unfortunately, the 30-second preview feature is only available in the US, UK, Germany, France, Austria and Switzerland.
As always, Shazam also connects with Spotify (in certain European countries), so you can listen to full tracks, or with Pandora (in the US) to give you a mix of similar songs. There is a free version of Shazam in the Android Market, as well as a paid version for $4.99, which allows unlimited tagging. Check out the video below for a preview of the new update.
Recommended Stories