Sharp AQUOS Crystal versus HTC One M8: first look
26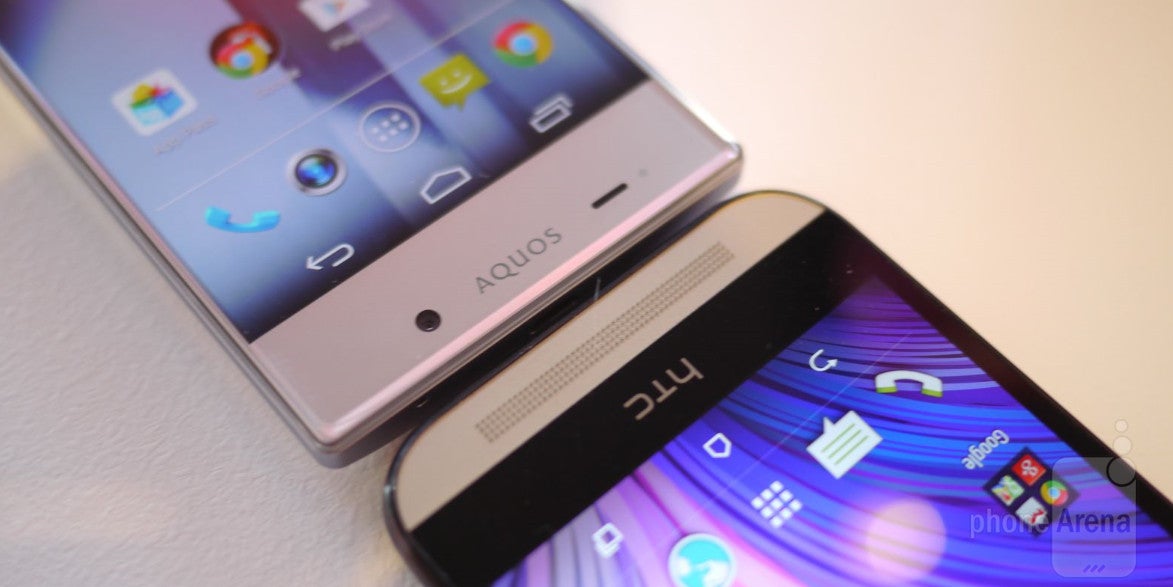 First impressions leave a lasting mark. That's certainly true with smartphones, seeing that we're naturally attracted to well-made, meticulously designed phones. Arguably one of the best in that department, the HTC One M8 is still one of the more prominent Android smartphones that is known most for its impeccable design – one that's modern, while continuing to be premium in every way imaginable. Although it's new to the scene, the Sharp AQUOS Crystal might be classified as a mid-ranger, but don't let that notion fool you into thinking it's going to be sub-par with its design.
Design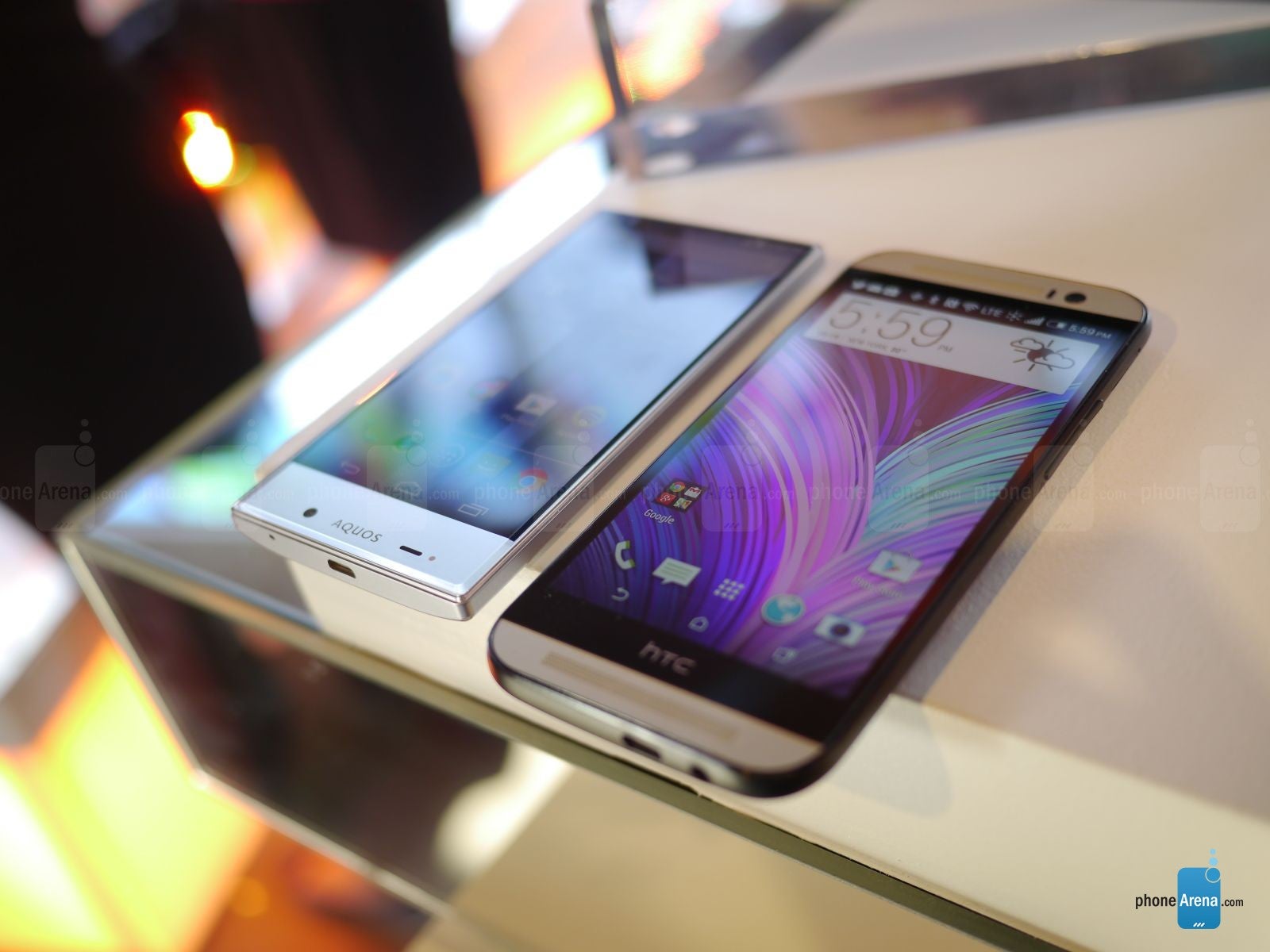 Honestly, we can totally agree that these two Android-powered smartphones are memorable for their respective designs. Even though they're different, they each bear their own unique set of qualities to make them a cut above the competition. The more we look at the two, the more it's tough for us to concretely select a winner when it comes to design.
Naturally, the HTC One M8's all-metal construction exudes a premium finish, more so than the matte plastic construction of the Sharp AQUOS Crystal – while giving it that sturdier feel in the hand. However, Sharp's new phone amazes us for its unique quality of offering a very different looking edgeless display. HTC's design for the One M8 is no doubt iconic, but we can say that the AQUOS Crystal has a distinct look of its own to stand out over other plastic-constructed smartphones.
Display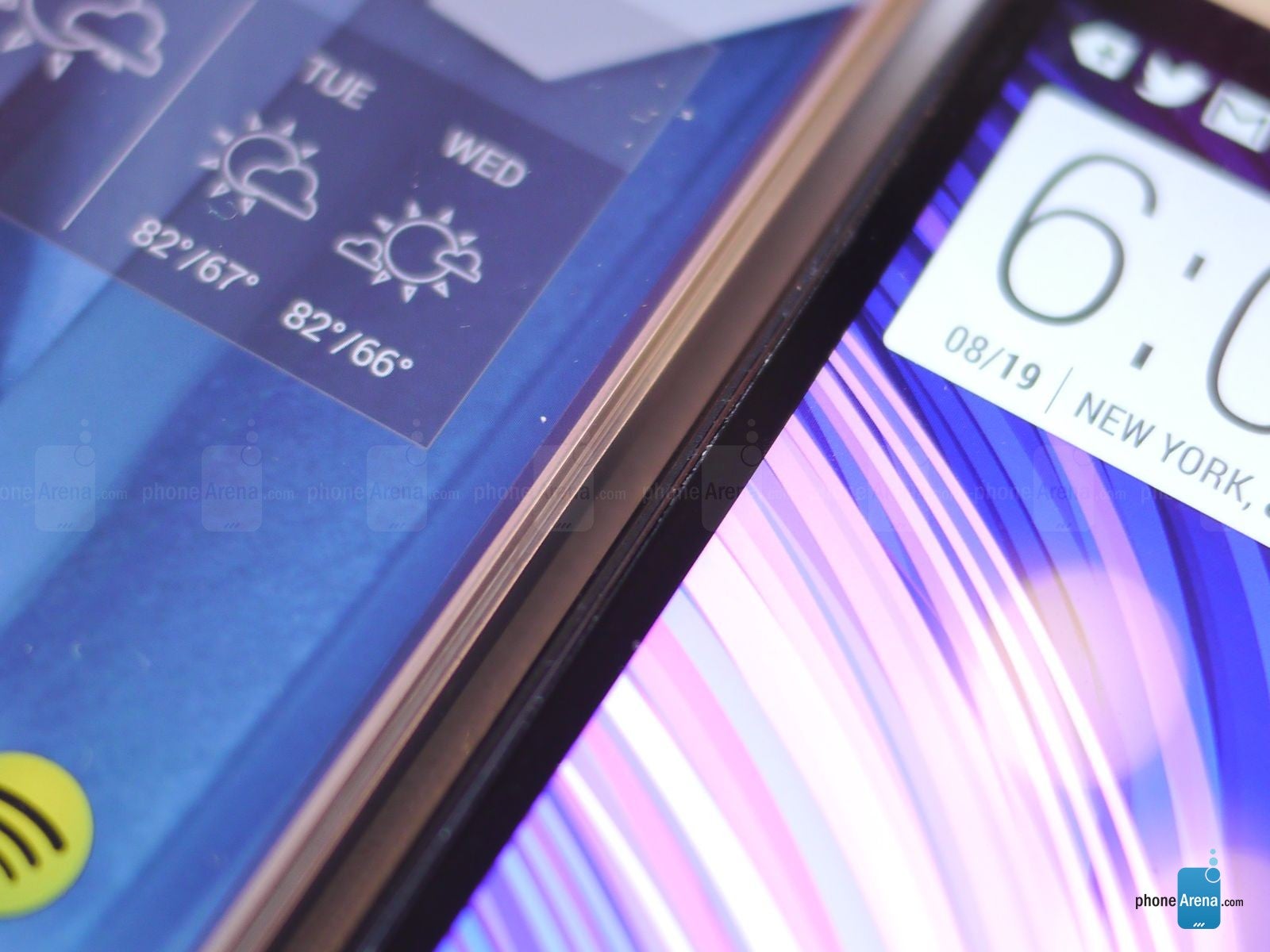 Reading into their specs, we get more detail from the HTC One M8's 5-inch 1080 x 1920 Super LCD-3 display. Well, it's not to say that the 5-inch 720 x 1280 LCD screen of the Sharp AQUOS Crystal is bad, but it doesn't have the same crisp details as we closely look at the HTC One M8's screen. Nonetheless, from a normal viewing distance, it's hard to tell which of them is superior.
Being a new player in the US smartphone market, we're pleasantly surprised to notice the Crystal's display flaunts several great qualities that rivals the panel used by the HTC One M8. In particular, they both have neutral color productions, wide-viewing angles, and strong brightness outputs – making them easy to view in all sorts of conditions. Obviously, the edgeless nature of the AQUOS Crystal's display minimizes the amount of added real-estate to the phone, which makes it more compact in size – a truly remarkable quality to tell you the truth.
Interface
HTC pays more attention with its Sense 6.0 experience, since we feel it to be one of the more design-conscious custom interfaces for Android. Sporting a polished finish with everything, from its HTC BlinkFeed integration to the slick looking HTC widgets, there's no arguing we prefer its presentation more than the stock Android 4.4.2 KitKat experience of the Sharp AQUOS Crystal.
Features-wise, there's also no comparison between the two, as the HTC One M8 drives it home by providing several enhancement that deepen the overall experience. For example, its set of Motion Launch gestures are pretty useful in providing us quick access to some basic functions – like being able to quickly check the time, unlock the phone to the last thing we were doing, or voice dialing.
Processor and Memory
With its high-end, flagship status, the HTC One M8 benefits by having a more profound set of hardware – a speedier quad-core 2.3GHz Qualcomm Snapdragon 801 SoC with 2GB of RAM. Meanwhile, it doesn't surprise us to find the AQUOS Crystal outfitted with a mid-ranger esque quad-core 1.2GHz Qualcomm Snapdragon 400 processor with 1.5GB of RAM. On the surface, the two offer nearly the same amount of responsiveness with basic tasks – like opening up apps, navigating through the homescreen, or surfing the web. However, we presume that the Sharp AQUOS Crystal might strain with more processor intensive stuff.
Unfortunately, one drawback for multimedia aficionados is that the AQUOS Crystal only comes with 8GB of internal storage – a stark contrast to the spacious 32GB offered by the HTC One M8, which can be supplemented thanks to its microSD card slot.
Camera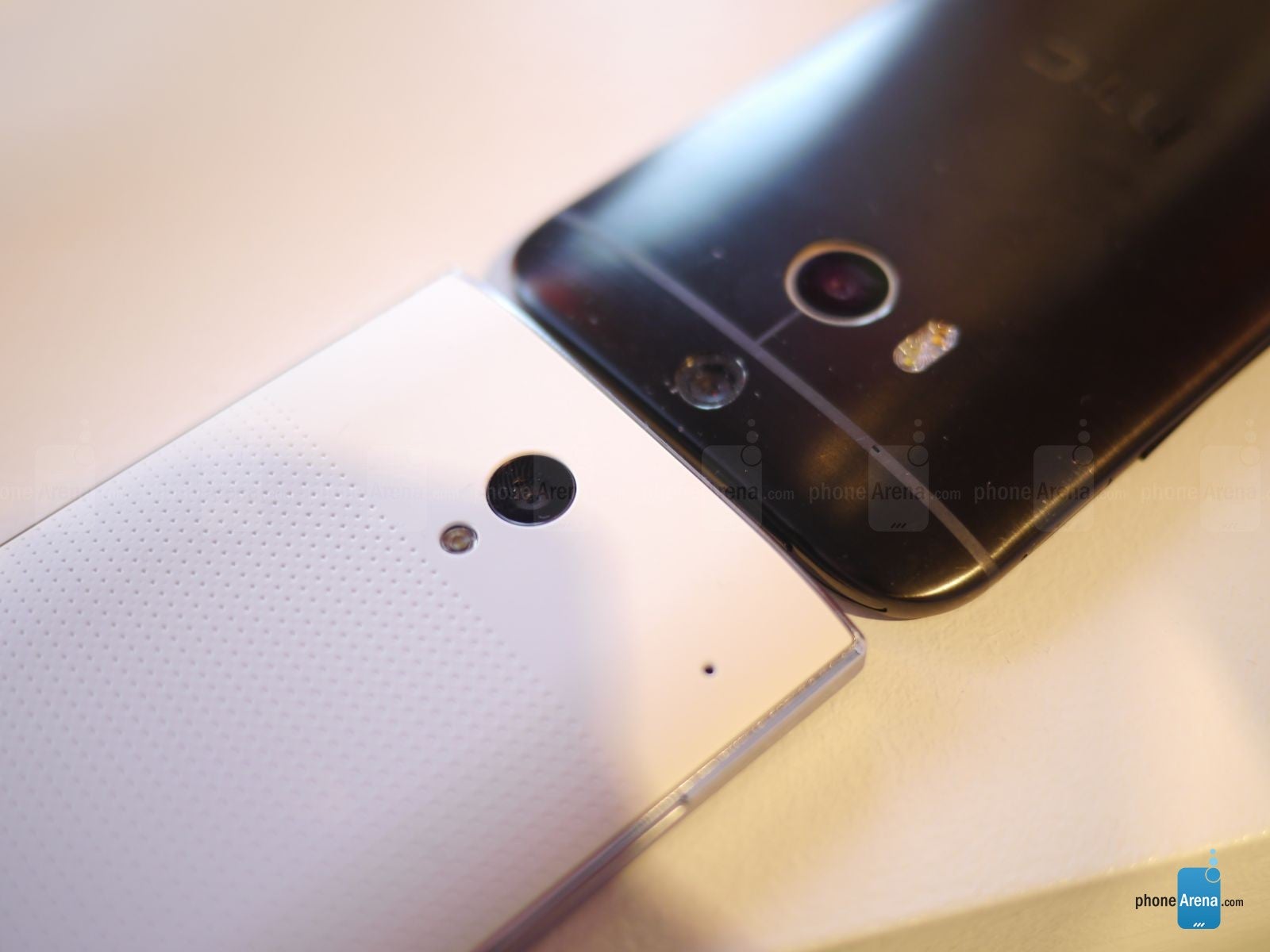 Now this is an interesting first look comparison, seeing that the Sharp AQUOS Crystal features a larger sized 8-megapixel camera – while the HTC One M8 has a 4-megapixel "
Ultrapixel
" camera. As much as we'd like to say that the higher count will attribute to more detail, it's really tough to say until we actually snap similar photos and compare their qualities. However, we do feel as though that there's more "
fun
" to be had with the HTC One M8's camera, mainly because of its duo camera and the set of cool shooting modes/effects it has to offer shutterbugs.
Expectations
As it currently stands, the HTC One M8 has already proven itself to be a viable contender in the competitive smartphone market. With its premium construction and high-end goodness quality, it's constantly a device that's always in the thick of things – even though it's been available for some time now. On the opposite side of the spectrum, the Sharp AQUOS Crystal is entering the space with no established brand recognition in the US. However, Sharp might be able to dig itself a good foundation, since the AQUOS Crystal is priced competitively – while also astounding us for its unique edgeless display.