Seven of the best Android launchers for tablets
8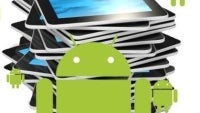 Ask any Android tablet owner about the advantages that Google's tablet OS has over competing operating systems, and the word "customization" will most likely be included in his/her answer. There are many ways you can customize your Android tablet, but the most common method is to install an Android launcher.
Android launchers make visual tweaks to your home screens and app drawer without making any permanent changes to your Android device. Launchers are also often referred to as home screen replacements.
With that in mind, here are some of the best launchers for your Android tablet. Alternatively, you can head on to the following link to find the best
Android launchers for smartphones
. This list will only include Android launchers optimized for the extra screen real estate that a tablet has to offer.
Google Now Launcher
This is Google's stock Android launcher, one that heavily mimics the user interface provided by Nexus tablets. The Google Now Launcher doesn't come with as many features as other tablet launchers mentioned, but it does provide a clean UI, it makes Google Now quickly accessible by swiping up from the home button, and it also comes with Google's voice-activated search feature.
Since this is Google's own launcher, it shouldn't surprise you that the company's own services such as Gmail, Drive, Maps, Keep, YouTube, and Google+ will be placed front and center on the home screen of your tablet.If you want to, you can remove the "Google" folder from your home screen.
Apex Launcher
Apex Launcher is a great launcher for Android tablets as well as smartphones, one that gives users ultimate control over the appearance of the operating system. With Apex Launcher, you'll be able to place up to seven icons in up to five pages in the icon dock, and you can also customize the app drawer's grid size. Other neat features include home screen transition effects, custom icons and custom labels for folders, several drawer sizes and ways of sorting the apps in the app drawer, as well as a multitude of available themes.
The paid version unlocks access to even more features, such as the ability to place widgets in the dock, more transition effects, and support for ADW, LauncherPro, and Go Launcher themes.
Nova Launcher
Nova Launcher is, in many ways, highly similar to Apex Launcher: it comes with multiple themes, it allows you to customize the grid size, it can create multiple icon dock pages, and it also comes with numerous home screen transition effects. Some of the features that set it apart from Apex Launcher include voice-activated Google Search capabilities and the ability to place icons and widgets halfway through the home screen grid cells (subgrid positioning).
The paid version unlocks several extra features, such as gesture support, custom drawer groups, and extra transition effects.
Action Launcher
Action Launcher is one of the best-looking Android launchers for tablets. Although not as customizable as Apex or Nova, Action Launcher comes with a unique user interface that extracts the colors of your wallpaper and uses them throughout the UI for a very consistent experience throughout the Android OS. One particularly interesting feature is called Quickpage, basically a custom home screen that can be instantly accessed by swiping from the right edge of the screen. Other neat features include custom icons, a range of icon packs, and a range of customization options.
Square Home (Tablet Version)
If you bought an Android tablet but just can't shake the feeling that the Windows Metro UI is best tablet interface around, there's an app for that. Called Square Home Tablet, this one is an Android launcher that will make your Android slab look more like a Windows tablet. You can add new tiles, resize existing ones, lock the home screen to prevent changes, apply themes and icon packs, and more. One thing to bear in mind is that although this is a free app, you'll need to buy a key to unlock all of its features.
Go Launcher EX
Go Launcher has been one of the most popular Android launchers for quite some time now, which is easy to understand given the myriad of themes and icon packs that are available for it. Go Launcher EX is a new and improved version that can launch apps with gestures and also comes with some interesting transition effects. The free version comes with ads, and you'll have to buy the Prime version to remove them, but fortunately, there's a one-day trial you can take advantage of.
Smart Launcher 2
If you're looking for an Android launcher that can help make sense out of the app drawer, then you should definitely give Smart Launcher a try. The drawer organizes apps into several categories, such as gaming, media, or productivity. Another main feature is called "The Flower", a collection of icons that shows up on the home screen and enable quick access to the most-often used app for a certain activity. The paid version also comes with widget support, as well as the ability to create custom categories in the app drawer.
Share your favorite!
We've included seven of what we think are the best Android launchers for tablets. If you've got any suggestions, drop us a comment and let us know which is your favorite Android tablet launcher and mention the reasons why you think it should be on our list!