Sensors in future Apple devices could warn users of environmental hazards
19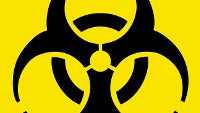 When it comes to innovation, there are not many smartphone manufacturers that can compete with Apple. While next year's 10th anniversary of the iPhone can be the cause of much speculation regarding possible new features, a patent application to the U.S. Patent and Trademark Office submitted by Tim Cook & Co. on Thursday might have just given us an insight on what the company is planning to surprise us with beyond 2017.
The application specifies a technique by which an environmental sensor could be placed into a device speaker cavity. This approach would allow such components to have a part of them exposed in order to sample material and at the same time they would be relatively protected by the housing of the device.
The diaphragm located in the speaker cavity or port would use sensor circuitry to draw in, capture and expel various sampling materials such as air and water. Having a speaker system that drives out water is nothing new to the owners of the
Apple Watch Series 2
, however, the motions of the diaphragm could also be used to refresh the sample material in order to ensure more accurate readings by preventing stagnancy.
Apple also describes a plethora of different components that can be used in this sensor configuration, including an oxygen sensor, a biological substance sensor, a temperature sensor, a carbon monoxide or carbon dioxide sensors, an ozone sensor, a humidity sensor, various gas sensors and more.
While it is not exactly clear which devices would incorporate this technology or when (if ever) would Apple decide to mass produce it for consumers, the potential benefits of having such features in your phone or watch simply can't be ignored.
Host devices could be configured to take readings from these sensors and issue notifications to users after the data analysis has been complete. For example, if a person possessing such a gadget enters an area with a high concentration of dangerous gasses, the device would issue an alarm which could potentially save that person's life. Moreover, if this technology catches on and becomes an integral part of the smartphone/watch of tomorrow, scientists would be able to gather data much more accurately through crowdsourcing.
Having such specific, real-time information could not only let people with asthma know which areas to avoid on any given day, but would also give researchers a better picture of the location, reason and time at which pollution happens, which is important when taking steps to reduce its effect on our environment.
source:
US Patent & Trademark Office
via
AppleInsider