Send a heartfelt handwritten greeting card from your Apple iPhone or Apple iPad using 'Inkly'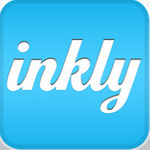 Using a combination of your emotions, an iOS app called 'Inkly' and your iOS device, you can send out a
handwritten greeting card
to that special someone in your life. The process is rather simple. Just get a blank sheet of paper and write your best sugary prose. Use the Inkly app to snap a picture of the paper and you're more than halfway home.
Apple iPhone 4
,
Apple iPhone 4S
and
Apple iPhone 5
,
5th generation iPod touch
and
third generation Apple iPad
(and most likely the
Apple iPad 4
and
iPad mini
) in order to use the app.
Will the recipient of the card be fooled into thinking that you took the time to send a handwritten card? Inkly swears that your
laziness will never be detected
. A version for Android is said to be on the way.
source:
AppStore
,
TheNextWeb
via
Gizmodo