Senator Lindsay Graham, whose cell number was outed by Trump, shows you how to destroy a phone
18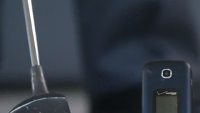 Republican presidential hopeful Donald Trump recently found a new rival to bully in South Carolina Senator Lindsey Graham. Trump, who has been leading the pack in the latest polls despite making a series of comments that some might call absurd, turned his attention to Senator Graham after the Senator called Trump a "jackass."
The real estate mogul got his revenge. During a speech covered widely by the media, Trump gave out Graham's cellphone number to the public. Within minutes, Senator Graham's voice mailbox was full.
Trump, though, might have done Graham a favor. The Senator had been carrying an outdated Samsung flip phone. Now that the public knew the number to that phone, Graham decided that this would be a good time to get rid of it and move up to a smartphone. While Graham is obviously not a techie, he did manage to fire off a tweet that revealed his intention to get a new phone. "
iPhone or Android?
" the Senator tweeted.

Senator Graham is getting a smartphone!
Graham turned to YouTube to share a funny video he made about the different ways to destroy a cellphone. Starring Senator Graham and his Samsung flip, the video shows Graham using a meat cleaver, a blender, a putter and other methods to destroy the phone. While the Senator probably already has purchased his new smartphone, there is no word on whether he bought an iPhone or Android handset.
source:
IJReview
,
ABCNews