Seidio OBEX Waterproof Case for Samsung Galaxy S4 review
13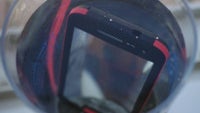 We all know that the Samsung Galaxy S4 Active is the proper choice to go with in the Galaxy S4 line if you want something that's waterproof, but some people would still rather have the original flagship model instead. By itself, the Galaxy S4 is filled to the brim with all the cutting-edge hardware and features to make it a prized offering in the landscape. However, its plastic construction wouldn't be able to endure the rough punishment of it being dropped over and over again – plus, it's not waterproof either.
Well folks, the team from Seidio have a case that utilizes the latest advanced technology to safely guard the flagship phone – giving it many of the rugged properties of the Galaxy S4 Active. Taking a quick look at the Seidio OBEX Waterproof case for the Galaxy S4, it definitely sprinkles that imposing appearance when the handset is set inside of it. There's not much of a pleasant style with its design, but the red accented trim of our particular model helps to break things up just a little bit. At the same time, the once slim profiled handset is transformed into an even thicker and unwieldy device – the compromises that come with being ruggedized.
Consisting of only two components, a front and rear part, the Seidio OBEX case seals the smartphone at various critical points to block out particles and liquid from seeping into its compartment. Relying on the combination of polycarbonate and thermoplastic polyurethane materials, it's nice that there's sufficient padding to cushion the handset from drops – enabling it to withstand drops from multiple angles at 6 feet high. Heck, we even decided to take our Galaxy S4 for a dip in water for 10 minutes, where it easily survived with no issues.
Due to the snug fit of the case and how it adequately protects its various ports, accessing the 3.5mm headset jack becomes problematic for certain headphones, seeing that the now recessed nature of the jack doesn't permit some headphones to connect properly without the aid of an adapter. Thankfully, there isn't much of an impact to the volume output of its earpiece and internal speaker. Indeed, its output is suppressed due to the case covering the earpiece and speakerphone, but at least we're still able to make out voices at the loudest volume setting.
Like we said, you can always choose to go with the Galaxy S4 Active if you don't want to bother with cases, but if you can't get over what the original model brings to the table, like its vibrant AMOLED display, the Seidio OBEX case is something reasonable enough to give it some of the same properties as its close sibling. At $80 a pop, it's pretty much in line with other comparable cases.
source:
Seidio