See techno-illusionist Marco Tempest do his thing at Asus' Windows 8 event
8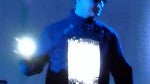 Yesterday, we managed to check out some of all the
cool Windows 8 stuff
that Asus showed off at its event in the Big Apple. Moments before it started, the atmosphere at the event seemed to center around
Apple's unveiling of the iPad mini
. However, that quickly changed as Asus quieted down the hall with one memorable introduction.
Right away, the lights were dimmed with our attention placed on a monitor that was placed in the center of the stage. All of a sudden, a man dressed in dark clothing appeared – with dark shades to complement his look of course. In fact, it was none other than mater techno-illusionist
Marco Tempest
. Without divulging too much on what he performed at the event, all we have to say is that we were utterly blown away by the mind-boggling performance.
At another point at the event, Marco showed us some additional magic as he somehow managed to transport himself from the stage all the way to the footsteps of Asus' headquarters in Taipei, Taiwan – where he managed to bring along the Asus Taichi Windows 8 dual-screen laptop. Well, check out Marco Tempest's cool performance at the show, and trust us, you'll be questioning how he's able to do all of it.