Second-hand iPhone market going strong, Apple and carriers don't mind
10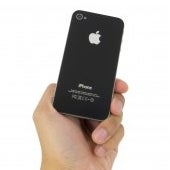 Here is a question for you, iPhone owners: after buying your iPhone, what did you do with your old handset? If you simply gave it away to a friend or relative, then you are among the majority. In fact, nearly two thirds of used phones end up as gifts, according to a recent study conducted by
Consumer Intelligence Research Partners
(CIRP).
The study also reveals that after the
iPhone 4S
was released, 53 percent of the people who bought it introduced their previous phone to the second-hand market by either giving it away or selling it. And as much as 49 percent of those phones were previous iPhone models (
probably even ones with broken displays
), while BlackBerries and Android smartphones account for only 21 and 15 percent respectively.
Here is how CIRP co-founder Mike Levin explains why the second-hand iPhone market is flourishing:
"We think the secondary market for the iPhone is more established, since iPhone has the longest track record for a single device/platform, and for many it is the aspirational entry-point smartphone,... iPhones also had the advantage of having a useful second life as iPod touch substitutes, which made their used value a little clearer from the start. As a GSM phone, AT&T iPhones also could be [unlocked] for use on other GSM networks, so there was an early secondary market for iPhones on other carriers — though this was, of course, limited to more savvy and aggressive technology consumers."
do
get activated on a wireless carrier – as much as 87 percent of them. It is even estimated that 11 and 12 percent out of AT&T and Verizon iPhones in use respectively are, in fact, second-hand devices. This phenomenon is actually quite beneficial to carriers as they do not need to pay subsidy for those devices, which is an estimated $400 per iPhone. After putting these numbers into perspective, CIRP concludes that AT&T and Verizon may have saved between $400 and $800 million so far.
How many of you would gladly use a second-hand iPhone if it was given as a gift to you? And what about buying a used one? Feel free to share your thoughts with us in the comments below.