Survey finds 42% of UK iPhone owners continue using their phones even if they have broken displays
20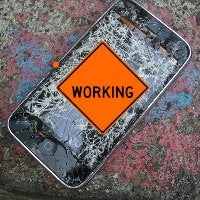 There's nothing like buying a brand spanking new iPhone for the first time, as you gaze upon the magnificent aura surrounding the smartphone – it's as they say, magical! On the other end of the spectrum, others know what it's like to have those feelings tarnished, like when you accidentally drop the phone and crack its display. So what do you do then? Well, some people can afford to get it fixed, or even replaced, but for some other people, they apparently live with it.
According to a survey conducted on 1,112 UK iPhone users by the site MyVoucherCodes.co.uk, it appears as though there are a lot of UK iPhone owners who don't mind using their once snazzy looking iPhones – even if they're broken in some way. As we said, not everyone can afford to get the smartphone back into tip-top shape, and for them, they can simply overlook the fact that it's broken in some manner.
Interestingly, the survey find that
42%
of UK iPhone users continue to use their iPhone even with though it has a
broken display
of some kind. Even more surprising is the fact that
over half
of them damaged their iPhone screen at some point in time. Here's the lowdown on the survey:
57% had broken their iPhone screen at some point in time
27% of those had broken the screen within the first month
50%+ broke their iPhone within the first three months
51% said their iPhone worked fine even with the broken screen
42% continue to use their iPhone even with the broken screen
32% didn't want to claim insurance for the damage
41% said they did nothing to protect their iPhone like buying a case or screen protector
Well, it's not that uncommon to find someone on the street sporting and even using a cracked iPhone of some sort. As they say, if it works, then it works – so no need to do anything else to it. Still, you might want to think about putting the phone against your face while talking on the phone.
via
PCAdvisor
&
Berry Review