Sea Battle Online is like Battleships on steroids, play it online for free
4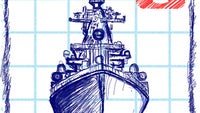 Remember the days when "smartphone" and "tablet" weren't yet household names? Back then, kids got their dose of fun by playing games that didn't involve tapping on a touchscreen. One of these games was Battleship, which started as a simple, pen-and-paper-based strategy battle between two people. And now, you can experience some of that old-school goodness right on your smartphone or tablet. Introducing Sea Battle Online. This is a virtual adaptation of the aforementioned game, enhanced with multiplayer and a special Advanced Mode that adds some spice to the gameplay. Of course, you may always play its traditional form, with ships of four sizes scattered across a 10 by 10 grid.
For those who have never played Battleship before, your goal in Sea Battle Online to sink all of your opponent's vessels before he or she sinks yours. The tricky part, however, is that you can't see the location of the other player's ships, and they can't see yours either. That's why you start off by picking a coordinate and launching a rocket at it. If you hit a ship, it is your turn to strike again, and if you don't, then it is your opponent's turn to fire. Overall, the game is simple, easy to learn, and quite fun when playing against a human opponent, be it online, over Bluetooth, or by passing the device back and forth.
As for the Advanced Mode in Sea Battle Online that we spoke of earlier, it adds extra weapons and utilities to the game. These include radars, mines, bomber planes, nukes, and more. Radars, for example, are used to reveal what's at a given area, while bomber planes strike multiple coordinates in a straight line. These perks, however, aren't free. They can be bought using the in-game currency, which you accumulate as you play.
Sea Battle Online is a free game and relies on no in-app purchases to generate revenue for its developer. There are add popping here and there, but we wouldn't call them too annoying. Hit the download link below and give this game a try!
| | |
| --- | --- |
| Developer: Byril | Download: Android |
| Genre: Strategy | Price: Free (with ads) |