Screenshots of BlackBerry OS 6.0 gets leaked
10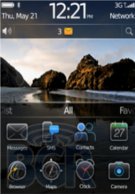 Just waiting in the bushes to perfectly time its attack, there were screenshots leaked that gives us some indication on what to expect with BlackBerry OS 6.0. BGR's AT&T sources were nice enough to include several images that take a quick peek into the development of the latest platform for BlackBerry. When the BlackBerry Bold 9000 came around, it was able to refresh the platform in many ways and brought the onset of RIM's line of current generation smartphones. Since that launch, we've been fortunate enough to witness some fierce competition going around in the mobile operating system market as webOS, Android, and now Windows Phone 7 have come to fruition.
Although RIM's portfolio of handsets offers one of the best email experience out there, the same could not be said about its native web browser. From the looks of it, RIM has done a lot of work in bringing it up to par with some of the competition as they've skinned it completely from the bottom up – tab switching, new favorites, and multi-touch look to be on board. There are also some nice graphical touches such as the transparent overlay being used when the tab switcher view is enabled. The media player also has been retooled, but we can't rush into judgment seeing that it's only pictures we are being treated to for now. Finally, RIM has decided to fully implement kinetic scrolling with rubber banding in all of its applications – so scrolling through a web page, address book, email, and the likes will be a better experience. Additionally, multi-touch will be in implemented in a lot of the native applications like pinch to zoom in the web browser and photos application.
Although RIM's platform looks to be ideal for business users, some might argue that it still is lacking some punch to catapult it over its competition. As we've seen with Android 2.1 and iPhone OS 4.0, there are plenty of graphical eye candy and intuitive applications that complete the overall experience. Nonetheless, RIM will primarily focus on the business segment more seeing the core of their installed base comes from that area.
source:
BGR