Screen shots shed light on Windows Mobile 7 interface?
This article contains unofficial information.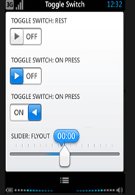 With the global launch of Windows Mobile 6.5 out of the way, people are soaking in and getting adjusted to the latest mobile platform from Microsoft. Now out of the blue arrives some screen shots that are rumored to be WM7 in the works. WMExperts was given the screen shots that provides a glimpse to a before and after look – the top row are allegedly taken from a combination of TouchFLO 3D and WM6.5. If you take a closer inspection on the bottom row of screen shots, you'll notice something different that you haven't seen yet. Missing from the top left corner is the traditional Windows start icon thats been prevalent on every single build of Windows Mobile. Even the bottom portion displays the sound volume and battery life. We're definitely liking the route Microsoft is taking with their interface – you can see that it's a bit more finger friendly with large sized buttons optimized for the finger. Pocketnow was also able to provide additional screen shots of what WM7 might turn out to become. It's unclear whether these new images will turn out to be WM6.
5.1
or just rolled along and integrated to WM7. So what does this all mean? It's safe to say that development is still in the early stages and we hope for not only cosmetic changes to the interface, but hopefully a more refined and intuitive experience that has been lacking on the aging mobile platform.
source:
WMExperts
and
Pocketnow