Scientists use iPhone microscope to diagnose intestinal worms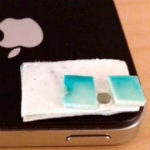 The last big growth opportunity for mobile devices is in the medical field. Mobile is already a powerhouse for communication, entertainment, and as an information hub, but the work is still in progress to make medical devices more mobile. We've seen theoretical work, but this story is a pretty impressive practical application, because scientists were able to use a hacked-together iPhone microscope to diagnose intestinal worms in Pemba Island, off the coast of Tanzania.
Africa is an emerging market, and inexpensive smartphones have been huge in many areas there (as we've
talked about before
). Mobile phones have already been amazing for local trade, microtransactions, and even the arts, and more medical options can only be a good thing.