Latest scam with stolen T-Mobile phone numbers gets thieves bank accounts access
2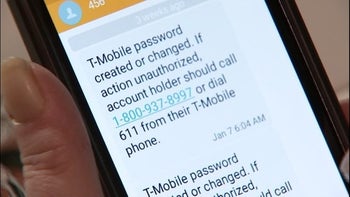 Not exactly Nigerian prince-worthy, but the latest scam involving snatching your phone number is still pretty inventive. The Redmond, Wash. Police are currently examining the evidence in numerous cases reported to them as theft of T-Mobile phone numbers, used subsequently for bank account identification.
This is how it apparently works - the scammers gain access to your name, social security and phone, then using this info they ported the number to MetroPCS. Thus, while your current phone stops working, the thieves call your bank from your number, and ask for a confirmation number to be sent as if to reset a bank account password they've forgotten. With this ID code, they gain access to your bank account, and are able to gain access to the funds there.
Long story short, people in the area have been complaining to the police about this since December, and one victim, Carrie Hartwig, was left with only $10 in their account. "They basically yeah stole my number - they had my phone cut off," she said, and after spending a few hours with customer service, managed to bring service back to her phone, only to get an immediate fraud warning from Chase bank.
"It was $1920 dollars and I had $1930 in the account. So they had successfully got on my account, got on my bank account, saw what we had in the bank, and tried to take all but $10
."
Thankfully, the transaction was blocked awaiting a confirmation from the owner, and the funds frozen before anything could be taken out. "
The victims we've seen in the seven different reports we've had - there's been anywhere from $1,000 to $3,000 taken each time
," said the Redmond Police spokesperson Andrea Wolf-Buck. The cases were with T-Mobile, but the police all over the country has had reports from other carriers, too, and recommend you calling customer service and setting a password as an extra identification step. This way nobody will be able to port your existing number to another service without having this confirmation first. In fact, T-Mobile has even pointed to a section on its support pages where it states what you need to do to avoid these types of fraud:
Our industry is experiencing a phone number port out scam that could impact you. Call 611 from your T-mobile phone ... [and] create a 6-to-15-digit passcode that will be added to your account. If anyone tries to steal your number, the new carrier will be required to validate the request with T-mobile using your passcode.