Saygus announces pre-order date and special pre-order pricing, for the V-Squared smartphone
14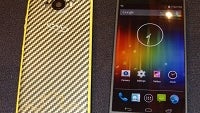 Saygus is on a mission to deliver a premium smartphone made of light and tough materials while provide extra-long battery life and exceptional usability. The
Saygus V2
(V-Squared) smartphone is going to be available for a special pre-order period before it is made available through as-yet unannounced carrier partners.
For a device that is made of ultra-light and strong magnesium and Kevlar, front and back OIS auto-focus cameras, Harman Kardon audio on two front-facing speakers, and other premium bits, you would expect a premium price tag.
Well, color us surprised as the device will sell for just $549 in a special pre-order deal that also includes an extra battery, and a special customized and replaceable screen protector. The 3100mAh batter is said to provide the performance of a 4600mAh unit thanks to a battery saving chip built into the device, having two such power cells should alleviate any-and-all battery concerns.
To pre-order a Saygus V
2
, you need to register with the company by Noon (Mountain Time) on Monday, February 2nd. Pre-orders will begin at 11:59PM (MST) the evening of February 2nd. For $549, you get a SIM-free V
2
, plus the extras mentioned in the pre-order promotion. After the pre-order period is over, the expected retail price will be $599.
The V
2
comes with 64GB of storage, plus is it equipped with two microSD card slots, each supporting up to 128GB. It also features wireless HD gaming and moving beaming capability thanks to an industry first 60GHz transmitter. The main camera is a 21-megapixel sensor with optical image stabilization, and the front unit is a selfie-made-in-heaven 13-megapixel unit also equipped with optical image stabilization.
The display measures 5-inches with 1080x1920 resolution, will be sunlight viewable, and is protected by Gorilla Glass 4. The whole unit is "swimmable" water resistant thanks to an IPx7 certification. There is a finger-print sensor for security, and powering the whole ensemble is stock Android 4.4.4 (with some removable pre-installed apps) and a quad-core Qualcomm Snapdragon 801 CPU humming along at 2.5GHz.
We got to have some
hands-on time with the Saygus V2
at CES 2015 earlier this month if you want to learn more.
source:
Saygus
Saygus Announces Pre-Order Pricing of Saygus V2 (V-Squared)

SALT LAKE CITY—Jan. 29, 2015— Saygus, the progressive American smartphone manufacturer, today announced that the Saygus V2 (pronounced V-Squared) will be available at a limited introductory price of US $549 for a $50 savings off the standard pricing of US $599. Saygus has extended the pre-order registration deadline to noon MST on Monday, Feb. 2. Pre-orders at saygus.com will then officially commence at 11:59 p.m. MST Monday, Feb. 2.

Those who pre-register will receive an additional battery and a customized, replaceable glass screen protector through the company's website, saygus.com. Those who pre-register will receive a coupon code for the introductory package. There is a limit of 10 units per customer. Carrier or reseller inquiries regarding volume orders can be made at reseller@saygus.com.

"The V2 was created from the ground up to be one of the most feature-rich smartphones ever made," said Chad Sayers, Founder of Saygus. "We are pleased to offer the introductory price of $549 for a limited time to those who have pre-registered."

The Saygus V2 is housed in a hardened Kevlar protective edge with durable anodized brushed aluminum sides and is less than 10mm thick. With access to CDMA and GSM wireless technologies, the V2 is a world phone designed to be used around the globe. The V2 has a 5-inch edge-to-edge borderless screen offering a resolution of 1080 x 1920 (FHD). It comes with an industry first optical image stabilization (OIS) in both the rear (21MP) and front (13MP) cameras, waterproofed IPX7 "swimmable" capability, sunlight viewable screen, 3100 mAh battery with 50% battery savings chip boosting the battery to approx. 4600 mAh, and a compact, side-facing fingerprint scanner for personal security.

The V² comes with 64GB of onboard storage and includes dual MicroSDXC Slots which provide an additional 256GB of expandable storage capacity. Industry-first wireless HD gaming and movie beaming technology, as well as state-of-the-art 3D sound with front-facing Harman Kardon speakers make the V² the ultimate media smartphone.

About Saygus

Saygus is a U.S.-based mobile device designer and manufacturer located in Salt Lake City. Saygus is focused on delivering leading-edge cellular devices that introduce new, innovative features to the mobile marketplace. For more information on Saygus, please visit: http://www.saygus.com.
###