Save money by using this kit to repair your cracked iPhone screen
16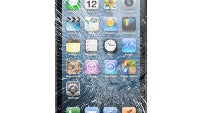 It is one of the worst feelings in the world. Your Apple iPhone, the tool you count on to do, well, just about everything, has hit the concrete screen-side down. With trembling hands you reach for the fallen handset, turn it over and gasp. The screen on your iPhone has cracked. Assuming that you didn't bother to insure the device, your next step is to find someone to fix the glass at a reasonable price. But that is not as easy as you might think.
You can save a lot of money if you repair the screen yourself, and with the iCracked iPhone Screen Replacement Kit this is quite possible. Available from Amazon for the
Apple iPhone 5
,
Apple iPhone 5c
and
Apple iPhone 5s
, the cost of the kit is less than what you would pay for a new screen from Apple or from third-party repair shops. The kit is $59.99 for the iPhone 5 and $69.99 for the other two models. And kits are available for both black and white variants of each phone.
According to the manufacturer, the whole process should take just one to two hours to complete. And all of the tools and material you need come right in the box. If you need assistance, the kit will show you how to access the company's on-line videos that give you step-by-step details on how to fix your screen. A lifetime warranty is offered for as long as you own the phone.
If you want to repair your cracked iPhone screen by yourself and save some money, click on the sourcelink.
source:
Amazon
via
BGR