Satechi iFit-1 Portable Rechargeable Speaker Stand hands-on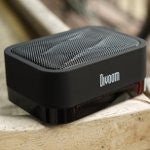 Do you have multiple smartphones in possession and don't want to fork out the dough to buy a pedestal speaker stand for each and everyone one? Well, you're in luck because the
Satechi iFit-1 Portable Rechargeable Speaker Stand
seems to be the perfect thing for you.
For something portable, the iFit-1 is rather
chunky
in terms of thickness – well, it's still something that can fit into a coat pocket or purse without adding much weight. In terms of design, it's a little bit on the predictable side, but we do like the
soft touch accent
on it. Meanwhile, we also dig the cool looking design it's proud to flaunt on its speaker grill. Taking a look in the rear, we're presented with its power switch, blue LED light, and miniUSB port that allow it to charge. Tucked underneath its body and discretely hidden away when it's not used, a 3.5mm headset cable allows us to attach it to just about any smartphone. Interestingly, the iFit-1 also incorporates an
inconspicuous tray
on its front to allow us to prop our smartphone in either portrait or landscape.
So how's the audio quality with this square puck looking speaker? Well, it's undeniably more
powerful
than the dinky speaker inside of the Nokia Lumia 900, but at the loudest volume, it does sound rather
strained and irritating
to the ear. However, bringing it down a couple of notches produces tones that are more bearable and robust. As for its battery life, a full charge is mentioned to deliver approximately
6 hours
of juice – so yeah, it should appease most people. Overall, it's nice for the reasoning that it's both an external speaker and stand for our device, but even better, it's priced reasonably at
$15.99
through Satechi or Amazon's web site.