Satechi Audio Move SD hands-on
1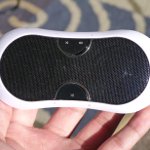 Already, we've checked out
Satechi Bluetooth Portable Speaker
for those who prefer the wireless route of sharing music, but for those who require something at half the price and don't mind being tethered, then the
Satechi Audio Move SD
speaker might be the perfect thing for you. Not only is it a pocket-sized and portable wired audio solution, but it also features a
microSD card slot
that's ready and willing to play tunes off of it.
Despite being mentioned as being pocket friendly, we have to admit that the Satechi Audio Movie SD is pretty substantial in terms of size – due to its
sheer thickness
. Nevertheless, it's still portable enough for travel without adding much lug and weight compared to other more intricate audio systems. Constructed out of
plastic
, the accompanying weight does provide for an overall durable feel. On its sides, we find a microSD card slot, miniUSB port for charging, and 3.5mm audio-in jack. Meanwhile,
two speakers
hide behind its mesh speaker grill, as the corresponding navigational buttons are found separating the two speakers. And as a courtesy to owners, it comes included with a miniUSB cable to charge it via any USB port or wall adapter, and a 3.5mm to 3.5mm cable to connect to your device.
Cranking the Satechi Audio Move SD to its maximum volume level, we're glad to hear very
strong and robust tones
without the slight hint of any crackling or strain. In fact, when we compare it to audio coming out of a Samsung Galaxy Note, it's quite evident that its tones are superior in covering a good-sized room. Moreover, there are some profound
bass tones
that accentuate the playing song to really give it that added kick to its quality. Fortunately, if you happen to be a big music buff, you'll be glad to know that internal rechargeable battery is rated to provide
17 hours
of continuous playback when playing songs through a microSD card, or and even better
24-hours
when using the 3.5mm connection.
Sure, you'll need to have your device closeby to use the speaker, but when you take into account its
$29.99
pricing, it's seemingly justified enough over some other wireless solutions.