SanDisk and Toshiba's speedy new 3D NAND flash storage could grace the iPhone 7
19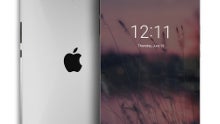 Even though Apple's so-called
iPhone 6s
and
6s Plus
have yet to arrive, it doesn't hurt to take a look at what might be in the pipeline thereafter. Cupertino's smartphone may be designed entirely by the fruit company, but it's no secret that many
(read: all)
of the hardware features are provided by external manufacturers. Samsung, despite the fierce rivalry and
constant patent battles
with the Mac maker, is one such firm. Toshiba and SanDisk, meanwhile, are major providers of the flash memory component found within the iPhone 6, and following some exciting developments announced by the two companies this week, 2016's iPhone could reap the benefits of much faster, better-performing on-board storage.
The two titans of the storage game have unleashed the very first 256-gigabit (32 GB), 48-layer BiCS 3D flash memory. In layman's terms, the firms have conjured 32 GB flash modules eclipsing anything currently available both in terms of speed and energy efficiency. The 15nm process boasts twice the capacity of even the densest memory currently at the disposal of the consumer electronics market.
Apple is by no means the only firm that may look to capitalize on the new technology, but since Tosh and SanDisk are already invested in the iPhone manufacturing chain, it's reasonable to suggest that Tim Cook and Co. could be among first in line for this upgraded gear.
The 3D nature of the BiCS (Bit Cost Scaling) memory makes the writing and erasing of data a more reliable process as compared with traditional 2D memory. This means that data can be written more quickly, and should, in turn, give license for devices like the iPhone 7 to enjoy speed improvements.
It's early days, and for now, there's no direct link to this announcement and the
iPhone 7
. But with sampling of the new flash memory set to commence from next month, it won't be ready in time for the iPhone 6s, and so fans will have to make do with the numerous other features that
Apple is rumored to be bringing to the table
.
Note: The image depicted in the thumbnail is an iPhone 7 concept only.